Building the Sinew Backed Bow with Mike Yancey DVD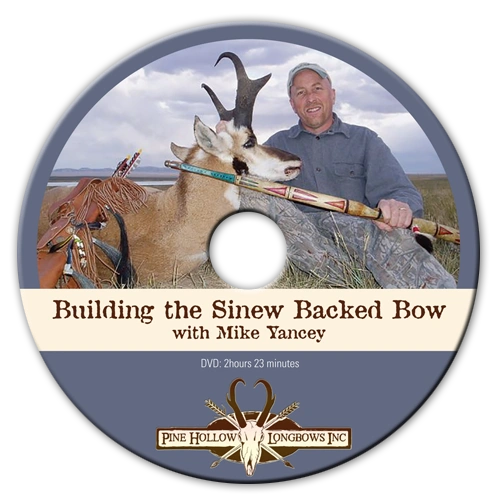 Building the Sinew Backed Bow with Mike Yancey DVD
Limited  Time SALE!  Building the Sinew Backed Bow with Mike Yancey
To purchase a digital copy of "Building the Sinew Backed Bow with Mike Yancey" instead of a DVD - CLICK HERE

Mike Yancey is a master of the self bow. In this DVD he shares his secrets and techniques of self bow building learned through years of hands on bow building experience.

Mike is known for his beautifully crafted self bows that draw smooth and cast arrows with great authority. Now in the comfort of your own home you can learn from one of the best - how to build your own sinew backed bow.

Whether you've never made a self bow before - or you've made dozens, there's a lot to learn in this in depth bow building DVD offered by Mike Yancey.

Chapters:

Roughing Out the Bow

Forms and Heat Bending

Sinew Backing

Clay Backing

Tillering

Rawhide Backing

Tip Overlays

Artwork and Finish

Snakeskin Backing

DVD 2 hours 23 minutes 

"I just viewed your video and it's great! The best money I've spent in years..."  Congrats, Joe Berger Colusa, CA

Building the Sinew Backed Bow With Mike Yancey DVD is a must have for anyone interested in building sinew backed bows.