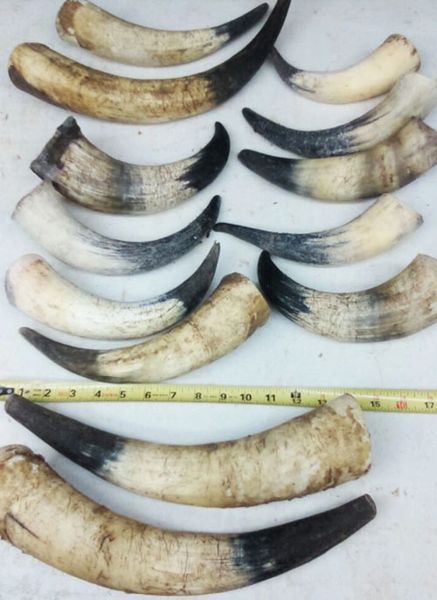 Cow Horns
Cow Horns
Medium - Large
These are raw unpolished cow horns used to make powder horns or cut up for tip overlays or many other craft projects. If you are looking to make a powder horn and have a special need let us know and we will help you get what you need. Colors and sizes vary on these medium to large horns, roughly 7" - 14".
Cow Horns, Small
These small raw unpolished cow horns are great for making priming horns, tip overlays or other craft projects. They are roughly 5" long. Colors vary, call if you have special a special request.

Sold by the each.

Natural Products Disclaimer:
All wild animal parts sold are legally taken in Arkansas or purchased from legal dealers in other states. No wild animal parts will be sold or shipped out of the United States. Before purchasing any wild animal parts make sure that is legal for you to purchase and posses such product in your state, county, or city. This is your responsibility and all legal fees or fines will be the responsibility of the purchaser, not Pine Hollow Longbows.