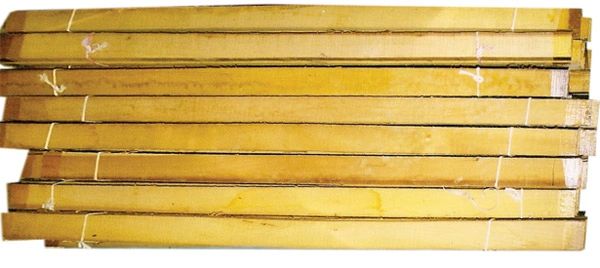 Osage Belly Core Lumber
Osage Belly Core Lumber - Each
One piece of 1 3/4" x 68"-70" x 5⁄8" Osage lumber that MUST BE BACKED!
Caution!! Building bows from natural materials can be dangerous. It is always recommended that you have some degree of training and knowledge before attempting to build bows with natural materials. Always proceed with caution and utilize proper safety measures, like wearing eye protection at all times, while building and shooting your bow.  When you purchase any of our products - you accept full responsibility and you agree to hold Pine Hollow Longbows, Inc. exempt from any lawsuit and harmless in the event that any sort of injury occurs.
PLEASE NOTE! As a work-around, so we wouldn't be overcharging you for shipping fees when you have several items in your cart, we had to add some additional shipping fees into the price we are charging for certain items. That's why the website may show that a particular item ships free, but the price may seem higher than normal. That's because the shipping has been added to the price of the item to offset the extra fees that the carriers charge us. 
Everyone knows that shipping charges have gone through the roof on heavy items and on boxes over 30" in length. The shippers are charging so much lately that sometimes they charge us more than the retail price of the items. We apologize for this, but it is out of our control. Thank you for your understanding, Mike & Kristy  

REMEMBER! If you're able to stop by our retail store, you'll avoid all shipping fees, and in cases like the items above, we will only be charging you the cost of the item and the Arkansas sales tax. Stop by for a visit if you can and stock up. We live in a great area for family vacations. Make plans to visit us soon and save on shipping!