Pine Hollow Longbows Plains Style Quivers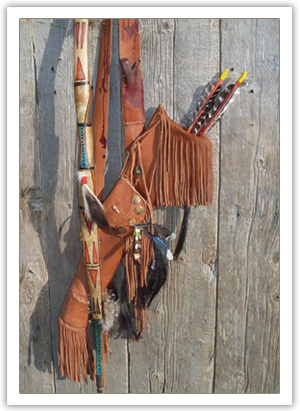 Pine Hollow Longbows Plains Style Quivers
Pine Hollow Longbows Plains Style Quivers
These custom made plains style quivers are the type quiver that I use for most of my hunting. I have never found a better all-around quiver than this style.

Only top quality leather is used and there are many options for the decoration, I'm happy to make them to fit your specific needs. Our Plains Quivers have fringe on the front, back, and the ends of the straps. We've even added a cup in the bottom for broadhead protection.

Note: These quivers look better with age - the more you use them the better they look.

Note:The Plains Indian Quiver is a Native American Style Quiver made to be worn over the shoulder - not the back. Each one is hand crafted - custom made - from natural materials and leather that I have on hand. NO TWO WILL LOOK ALIKE AND NONE WILL LOOK LIKE THE QUIVER PICTURED.