Pinehollow Primitive Hunting Arrows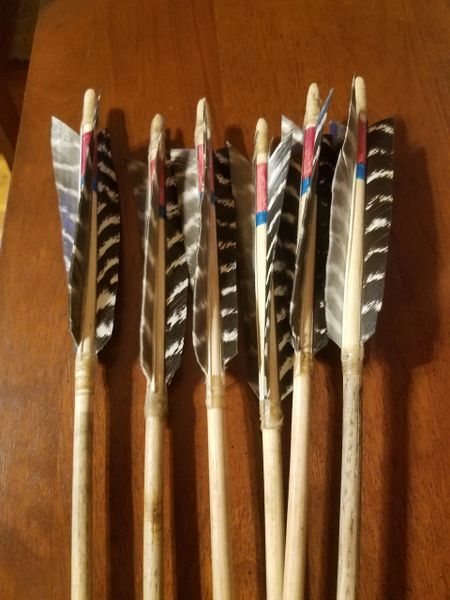 Pinehollow Primitive Hunting Arrows
Pinehollow Primitive Hunting Arrows by the each or by the 4-pack.

Pinehollow Primitive Hunting Arrows are hand crafted one at a time by Mike Yancey, owner of Pinehollow Longbows.
These are true primitive style arrows with Wild Barred Turkey Feathers in a Native Style cut sinew wrapped in front and back.
The arrows will be self nocked and sinew wrapped. 
The broadheads are steel trade points glued in with sinew wrapping behind the heads. 
Every arrow is heat straightened and then sealed with Pine Hollow all Natural Sealer.
You can purchase these hard hitting hickory arrows one at a time, or save $20.00 when you buy a 4-pack.
Shaft Material Hickory
Choose from 5/16" or 11/32"diameters.

Available Spine Weights: 40-45, 45-50, 50-55, 55-60, 60-65  (Special requests for heavier spines in 11/32" can be arranged.)