Pinehollow Classic Traditional Hunting Arrows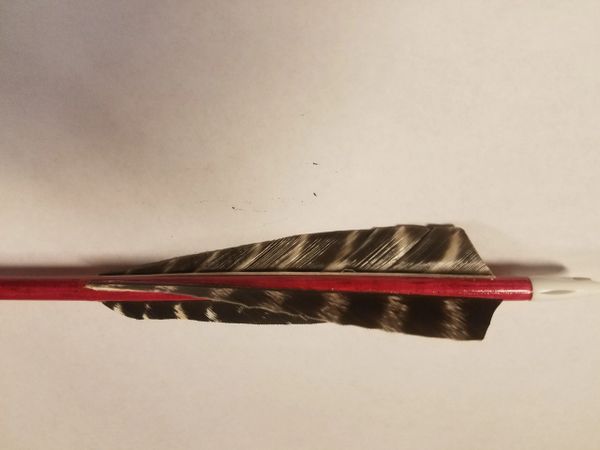 Pinehollow Classic Traditional Hunting Arrows
Pinehollow Classic Traditional Hunting Arrows by the each or by the 4-pack.

Pinehollow Classic Traditional Hunting Arrows are hand crafted one at a time by Mike Yancey, owner of Pinehollow Longbows.
These are true classice style arrows with Wild Barred Turkey Feathers in your choice of fight or left wing shield cut. 
These hard hitting hunting arrows come with either bouble beve Bruin broadheads or single bevel Grizzly Broadheads in your choice of Right or Left Bevel. NOTE: Match left wing feathers with left bevel broadheads and right wing feathers with right bevel broadheads.
Grizzly Broadheads are available in weights of:  125, 155, 185, 200, 225, grains.
Double bevel Bruin Broadheads are available in weights of: 125, 150, 175, 200 grains.
We add Woody Weights on the arrows before gluing on the broadheads to increase the FOC (Forward of Center) balance point. Arrows with higher FOC values fly better, recover quicker, group tighter, and penetrate much deeper than arrows with low FOC values.
Every arrow is heat straightened and then sealed
 with gasket lacquer and have Bohning Classic Nocks with the Red Pine Hollow Crest.
You can purchase these hard hitting hickory arrows one at a time, or save $20.00 when you buy a 4-pack.
Shaft Material Hickory
Choose from 5/16" or 11/32"diameters.

Available Spine Weights: 40-45, 45-50, 50-55, 55-60, 60-65  (Special requests for heavier spines in 11/32" can be arranged.)

"These Arrows will be custom made one at a time like I would be hunting with them myself. Customers that submit a photo suitable to use for publication of animals taken with these arrows will be sent a free Pine Hollow Hunt Like a Wildman tee Shirt! These arrows will be hunt ready except for sharpening the Broadheads." Mike Yancey