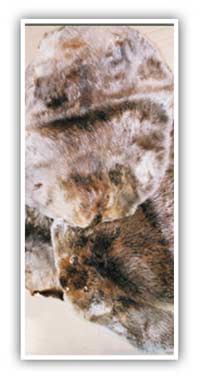 Tanned Beaver Fur
Tanned Beaver Fur
Available in: Small, Medium, and Large
Sold by the each
These are prime garment tanned furs. I finish all my own fur, and then send it to be
professionally tanned. The prices quoted are the average prices with the price depending
on the size and quality of the fur. I have been in the fur business for many years and these pelts are grader for quality that will allow you to make what ever project you need. Call for prices and to discuss other fur options. We should have a piece of fur to meet any budget. We also carry other hides as well as leather, call for availability.

Note: All wild animal parts sold are legally taken in Arkansas or purchased from legal dealers in other states. No wild animal parts will be sold or shipped out of the United States. Before purchasing any wild animal parts make sure that is legal for you to purchase and posses such product in your state, county, or city. This is your responsibility and all legal fees or fines will be the responsibility of the purchaser, not Pine Hollow Longbows.