Whitetail Back Strap Sinew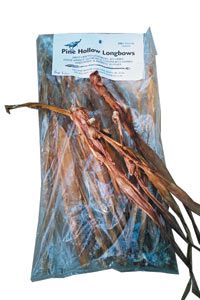 Whitetail Back Strap Sinew
Whitetail Back Strap Sinew
Full-length back sinews. One of our 20-packs is enough to back one bow or wrap dozens of arrows.

(This sinew is whole, just like it comes out of the deer - you still have to process it into the individual fibers.)

Note:
When purchasing as: "Each Package" - each package will have one whitetail backstrap sinew in it.
Note: All wild animal parts sold are legally taken in Arkansas or purchased from legal dealers in other states. No wild animal parts will be sold or shipped out of the United States. Before purchasing any wild animal parts make sure that is legal for you to purchase and possess such product in your state, county, or city. This is your responsibility and all legal fees or fines will be the responsibility of the purchaser, not Pine Hollow Longbows.
When purchasing as: "20 Packs" - you will receive a total of 20 whitetail back strap sinews.