BCY - B55 Bowstring Material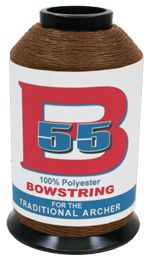 BCY - B55 Bowstring Material
BCY - B55 Bowstring Material
100% polyester similar to Dacron but with better durability and very low stretch. Perfect for all laminated recurves, longbows, and selfbows. Works well on all traditional bows without reinforced limb tips.
Note we don't carry all the colors - please choose from our drop-down list above.
Recommended strands: 12-16 for recurves
Approximate feet per 1/4 pound waxed: 1,075
Spool sizes: 1/4 lb.