Native American Style Hickory Bow Blanks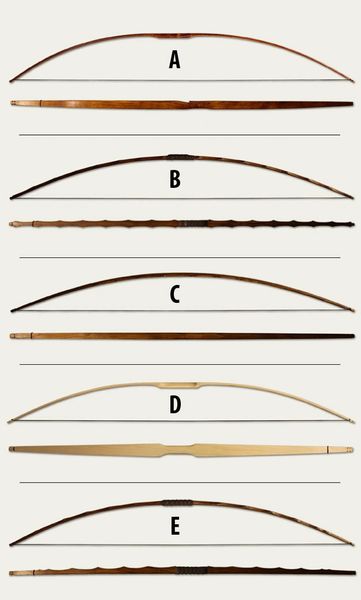 Native American Style Hickory Bow Blanks
Native American Style Hickory Bow Blanks

These quality solid Hickory reproduction bow blanks all come floor tillered - ready for your final tillering, sanding, and finishing. String grooves are pre-cut and each bow blank includes a nice bronze B-50 Flemish twist string with neutral brown serving for a very natural look.

These hickory bow blanks are a great way to get some hands-on tillering expereince before trying to build a bow from scratch.

The pictures above are of finished bows - so you know what they can look like when you've completed them. You will receive an unfinished bow blank when you order.

Note: These bow blanks are perfect for sinew backing! The 60" Modoc bow, when sinew backed is just like a California style sinew backed bow. If you've ever wanted to try building a sinew backed bow - starting with one of these blanks makes the process a lot easier.

A: Hickory Flatbow 65" 
A: Hickory Flatbow 72" 

B: Mohawk 65" (No Longer Available)

C: Oneida 65" (No Longer Available!)
D:  Modoc 60" (No Longer Available!)    

E:  Iroquois 65"  (No Longer Available!)   


Note! Additional Shipping Fees Apply on All Foreign Orders.

(Orders with multiple over sized items - call for a better freight rate.)